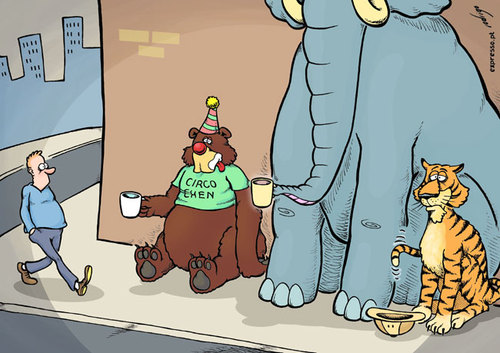 Stuffed menagerie goes under the hammer
A collection of more than 250 stuffed animals that has served as a visitor attraction since the 1960s is to be sold at auction in Dorset.
The eclectic mix of taxidermy includes, amongst many others, a baboon, lion, zebra and tiger.
Together the lots form one of the most peculiar sales ever to have taken place at the Duke's salerooms in Dorchester.
The auction house now looks like a zoo with the animals on display ahead of the auction on 13 April.
The bulk of the exhibits were put together by a Victorian collector and since 1965 they have been part of the Brading Experience, a museum on the Isle of Wight.
Matthew Denney from Duke's said: "In a varied job this is as varied as it gets. The museum closed due to a drop in visitor numbers and we are to sell them all with no reserves.
"Most of the collection was put together by a Victorian gentleman and it has been added to over the years.
"Some of the animals are in display cabinets and others are on their own. The standard of some taxidermy is excellent.
"The tiger is very good and could reach a figure in the thousands. There are collectors and dealers in this area and we've had a great deal of interest.
"There are over 250 animals - some are small examples displayed together - and they all have to go."