Supermarket launches white strawberries?
A leading supermarket chain has claimed that it will be selling "pineberries" for the next five weeks.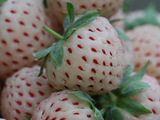 The fruit, which look like white strawberries and taste like pineapple, will be on sale at 45 Waitrose branches. The company has made the announcement a day before April Fools' Day.
Waitrose fruit buyer Nicki Baggott said: "Pineberries offer our customers the chance to add a new fruit into their diet and the berry's bright appearance can add an unusual decoration to sweet dishes.
"As the summer unfolds we won't be surprised to hear that our customers are inviting their friends over for pineberry pavlovas, punch or serving them up with yogurt for a lighter alternative."
Supposedly discovered in South America and saved from extinction by Dutch farmers, a 125g punnet of the fruit will be available from £2.99 until April 13 and £3.99 after this date.