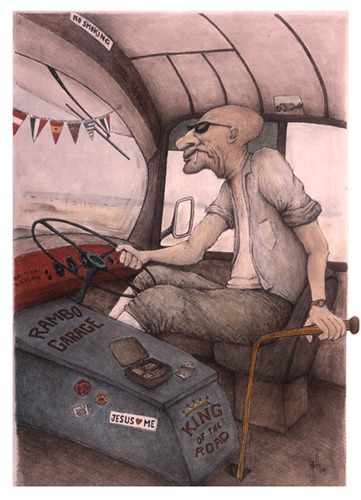 Bus driver 'sacked for eating a grape'
A 66-year-old man has allegedly been sacked by National Express Coaches for eating a grape.
Michael Shephard, who claims he was not driving while munching the fruit, is shocked and riled by his dismissal for breaking company regulations.
Shephard is quoted by
The Daily Telegraph
as saying: "I am so angry. I thought I would be given a disciplinary for eating a grape, but not sacked.
"I don't eat or drink while I am driving but I was just sat stationary at the bus terminus in Bedworth for a few minutes and took a grape to wet my mouth a bit."
Revealing his health complications, he added: "I had a heart bypass 12 months ago and the medication dries your mouth so I just take a sip of water or a grape sometimes when I'm sat at the station or terminus.
"I had already eaten my lunch so there was only a few grapes left in my lunchbox. And rather than getting off the bus to eat the grape I just stayed sitting in the cabin.
"I explained why I needed to have a sip of water or a grape every hour or so but they said it is still against the rules. They are just taking the rules to the next level."
A National Express spokesman said: "The driver in question hasn't exhausted the disciplinary process that we have as a company and as a result we cannot make any public comment.
"However we do hold ourselves to high levels of safety and customer care standards."