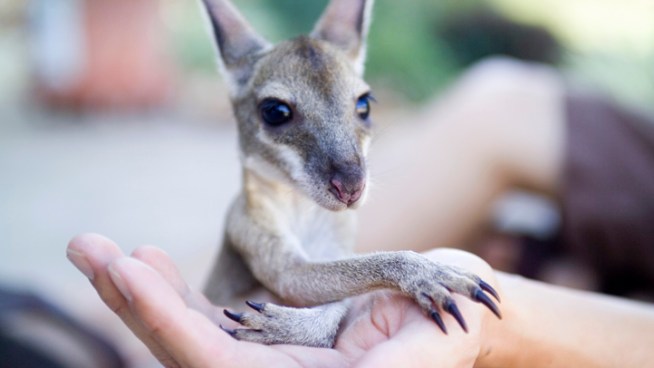 Texas Family Wins Fight to Keep Baby Kangaroo
Homeowner's association says it did not know Joey was for therapy purposes
A Texas couple has prevailed
in their fight
to keep their special needs' daughter's beloved kangaroo pal "Mike" in the family.
The Estates of Legends Ranch Homeowners Association in Spring Thursday reversed its position that Jeni and Nick Dreis had to give up their daughter's 6-month-old, 10-pound marsupial companion, the
Houston Chronicle
reported.
The Dreis family has said they are creating a wildlife preserve, organic farm and education center in Conroe, Texas to serve special needs children, including their daughter Kayla, who has Down's syndrome.
They only planned on keeping the Joey at their home for a year until he's ready to be transferred to the preserve, they said.
Since the story broke, the family has been hit with national media requests and will appear on the Animal Planet network in June, according to the Chronicle.
"The letter should never have been sent," HOA representative Jeff Crilley told the paper. "They were unaware that the kangaroo was being used for therapy purposes. We trust that the family is going to be working in good faith to find a more suitable home for the animal."