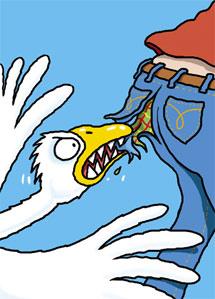 Hiker's bum shot
A US hiker accidently shot himself in the butt.
Darrel Elam from Washington, kept the gun in his back pocket because he thought it would be more comfortable there than in its holster while he was trekking.
However a shot from the .40 caliber weapon fired down his left buttock and left leg before it came to rest just above his knee.
The lucky hiker was treated for minor injuries at Central Washington Hospital before being released.
He said he now intends to keep the gun in its holster at all times.