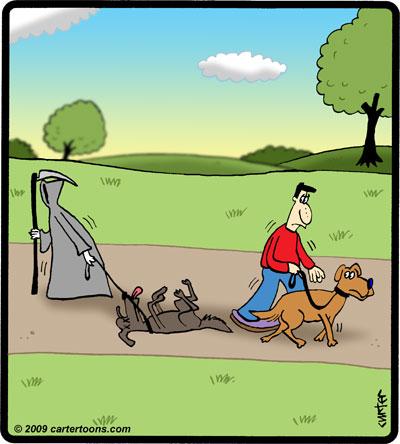 A motorist, Raymond Smith, who has had a brass model of his dead pet dog on his car bonnet
for 50 years has had to get rid of it due to the "do-gooders" at Health and Safety.
Since 1960 Mr Smith, from Gillingham, Dorset, has mounted the small model of his boxer dog Colonel on the front of every car he has owned.The 86 year-old has driven all over Britain and Europe but has now been forced to remove the two-inch chromeplated
dog from his Fiat Panda after the police told him it was a danger to pedestrians and was illegal.
He was told he faced a £50 fine and five penalty points if he ignored them!!!!!!
Mr Smith, a former amateur rally driver, said: "Nobody has taken any notice of it for 50 years, it was harmless.
Mr Smith fixed the item onto about 50 cars he has owned over the years, including Sunbeam Rapiers, Ford Cortinas, a Lotus and a Jaguar.
"Someone who I must have crossed swords with over parking or something has reported me to the police. They told them I had a dangerous dog on my car.
"I got a call from the police and I thought somebody was having me on.
"A traffic officer told me it was illegal as it was a potential danger to pedestrians and I had to get rid of it. It seems quite ridiculous."
Mr Smith, who served with the RAF in World War Two, added: "I feel rather sad about it. Whenever I drive I am used to seeing him sat out on the front of the bonnet leading the way."
PC Terry Swain, of Dorchester traffic police, said: "Objects on the bonnets of Mercedes and Rolls-Royces are designed to bend or come off in crashes.
"Fixed, solid objects on bonnets are a safety issue because they can cause increased injury to pedestrians if they were in a collision and rolled over the bonnet."
Mr Smith, who has been driving since 1938, has now positioned Colonel on the parcel shelf on the back of his car………
Another fine example of the "Nanny State"…….COME THE REVOLUTION!!!!!!!!