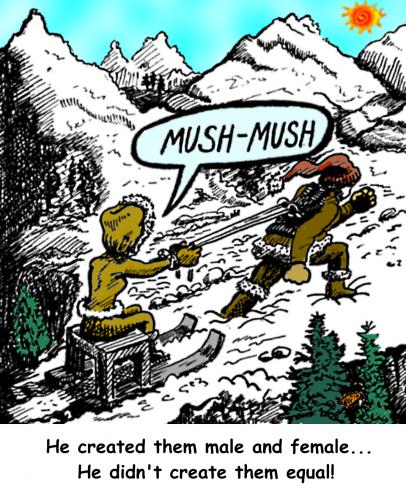 Alaska sled-dog race organizers tell NY's Idiotarod 'cease and desist'
The Iditarod, a grueling multi-day sled dog race across Alaska, is not - not! - to be confused with the Idiotarod, a pointedly sillier affair due to take place this weekend with costumed participants racing modified shopping carts through New York City.
The organizers of the Alaska race, however, are taking no chances. This week, they got their lawyer to send a cease-and-desist letter to the organizers of the Idiotarod.
The letter, which Idiotarod organizers shared on their Facebook page on Friday, says the New York race, with its "slight variation" in name, is breaching the Iditarod Trail Committee's trademark rights, and said Idiotarod organizers risked a lawsuit to seek damages.
Jon Dawson, the Iditarod committee's lawyer, wrote that the Idiotarod organizers were causing the public to associate the name "with an event that celebrates wacky costumes and antics over one that honors the endurance and athleticism of champion sled dogs and the courage and skill of the men and women that run them."
On Friday, Idiotarod organizers called the letter frivolous, and said its 10th anniversary race, described on its website as an "urban spoof" of the Alaskan race, would proceed virtually as planned this weekend.
In an act of what they called appeasement, however, they said they would rename their race the Idiotarodorama (aka the Desistarod). Still, they insisted that "no one in their right mind" could confuse the two events.
Whether sprinkling a few more letters into the name will avert legal troubles remains unclear.
Dawson, the Iditarod committee's lawyer, said on Friday he had not received a formal response to his letter and could not comment further.
The next Iditarod race, which commemorates a 1925 rescue mission that carried diphtheria serum by sled-dog relay to the Alaska town of Nome, is due to begin in March in Anchorage.
The organizers of what is now being called the Idiotarodorama, whose identity is opaque at the best of times, declined further comment.
"Frankly, we're cowering behind our anonymity," an organizer, who did not give a name, said in a response to an email. "Legal stuff is scary."